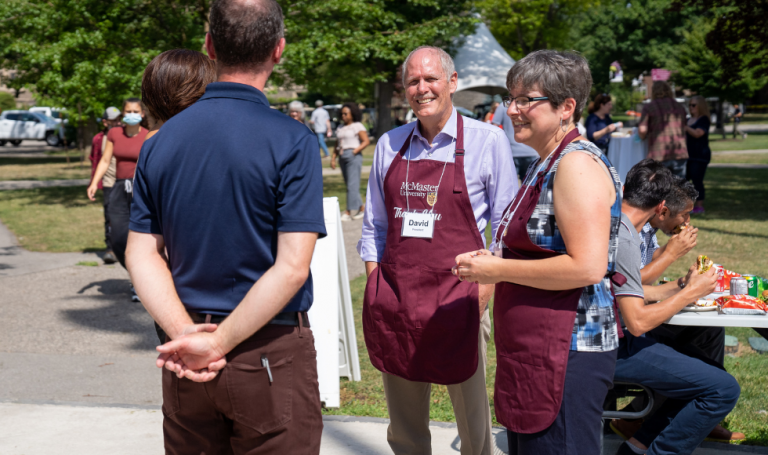 Thousands of faculty and staff attend campus thank-you barbecue – Daily News
President David Farrar (left) and Vice President for Research Karen Mossman (right) chat with colleagues at the staff and faculty barbecue.
On August 17, 2022, the President and Vice Presidents (PVPs) of McMaster hosted a BBQ for faculty and staff to express a heartfelt "thank you" for all of their hard work and dedication to McMaster, especially at over the past two and a half years. of the pandemic.
"You have all shown resilience, adaptability and continued dedication to McMaster during the pandemic," said David Farrar, President and Vice-Chancellor. "On behalf of myself and all of our Vice Presidents, I cannot thank our faculty and staff enough for their hard work in ensuring McMaster thrives.
Thanks to perfect weather, more than 2,300 meals were served by McMaster Hospitality staff throughout the 2-hour event held in front of the Green Mall in front of the Burke Science Building. PVP members including David Farrar, President, Susan Tighe, Provost and Vice President (Academic), Saher Fazilat, Vice President (Operations), Karen Mossman, Vice President (Research), Paul O'Bryne, Vice President from the Faculty of Health Sciences, and Debbie Martin, Acting Vice-Provost (Academic Advancement) were there to mingle with attendees and help serve food.
"It's the people who make a university great. The commitment of our staff and faculty members to our students and to each other during the pandemic has truly exemplified McMaster's institutional values ​​of inclusion and teamwork," said Susan Tighe, Provost and vice-president (academic). "Please accept my sincere 'thank you'. Whether you were able to attend the barbecue or not, I want you to know that your efforts are recognized and appreciated.
"Thank you to all of our staff and faculty who have done an incredible job in keeping this university prosperous over the past few years – it was wonderful to see so many of you at the barbecue," said Saher Fazilat, vice- President (Operations and Finance). ). "I also want to thank our amazing hospitality, conference and facilities staff and our organizing committee who went above and beyond to ensure everyone received such delicious food and the event ran smoothly. Thank you all."
During the event, a raffle was held to distribute various McMaster giveaways and other prizes, including a McMaster suitcase, Bull Dog tickets, wireless headphones, and campus store gift cards. For those unable to attend, a raffle has also been organized online. The winners are below:
Lisa White – a pair of Bull Dogs tickets
Anthea Innes – $50 Campus Store Gift Card & Bottled Water
Dallas Nash – Wireless Headphones
Lisa Lorentz – Carry-on and Passport Holder
Liz McDonough – Cover
Mohammad Islam – Hat, water bottle and key ring
Planning for next year's event has already begun – we look forward to seeing you there!