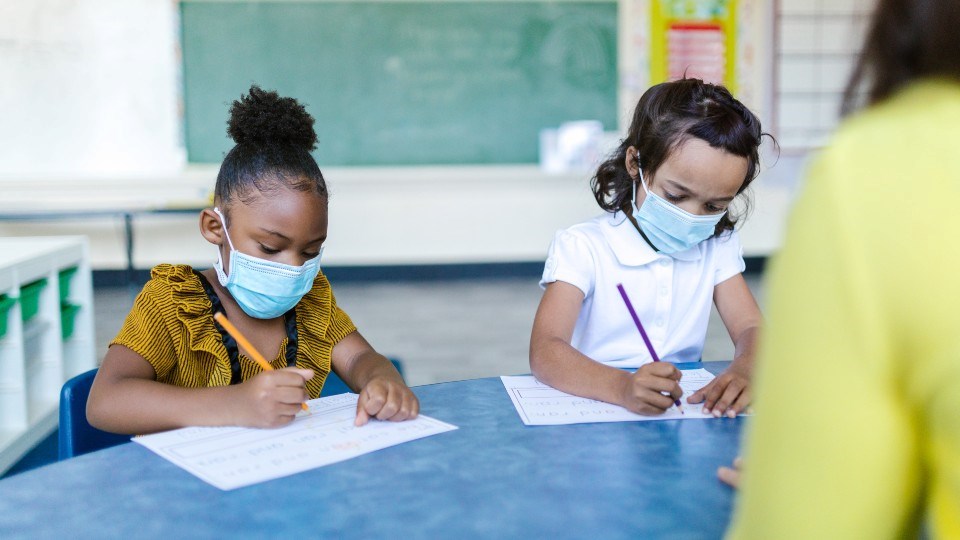 School officials encourage mask use after March Break, even though it's optional
Sudbury teachers' union representatives say lifting mask mandates in schools is premature
Although mask mandates were lifted in schools after the March break, the president of the Sudbury Catholic District School Board said the board will continue to encourage mask wearing.
Michael Bellmore said masks will continue to be provided free of charge at the school to students and staff.
However, in accordance with provincial policy, wearing a mask will be optional as of March 21.
The province has also announced that there will be no mandatory cohort, distance or confirmation screening. Gatherings, such as in-person graduations, will again be allowed.
This as the province prepares to lift most of Ontario's COVID-19 restrictions in March and April.
When asked if he thought most people would still wear masks in the classroom, Bellmore said it was actually a conversation in his own home, one of his children saying he would continue to wear a mask, while the other is on the fence.
Bellmore said the Sudbury Catholic Board will continue to do what it can to keep children safe, with or without a mask mandate, pointing to a recent vote by his board to put a HEPA filter in every classroom.
Ontario school boards don't have the ability to introduce their own mask mandates, Bellmore said.
"We don't have that authority to implement a mask mandate," he said. "This authority belongs to the Ministry of Education or the Ministry of Health. And we don't have the authority, as localized school boards, to enact our own mask mandate.
Sudbury.com reached out to the province to ask about school boards' ability to institute their own mask mandates.
We received an email statement from the office of Ontario Minister of Education, Stephen Lecce,
"Of all the provinces that have released plans to lift masking requirements in schools, Ontario has one of the most conservative timelines," the statement read in part. "School boards in this province should implement this prudent plan, coupled with the continued improvement of air ventilation in Ontario classrooms.
However, at least one school board in Ontario acted in defiance of the province's decision to drop mask mandates in schools.
Hamilton-Wentworth District School Board trustees voted against ending the mandatory mask policy for students and staff on Thursday, a Global News report said.
Sudbury.com left a message for Rainbow District School Board Chairman Bob Clement asking for comment on ending mandatory masking in schools.
Instead, we received an email from Rainbow Council's communications staff, telling us about a memo about this posted on the council's website on March 10.
The memo says that while mask-wearing will no longer be mandatory in the community, on school buses, and in elementary and secondary schools, staff, students, and families can wear a mask if they choose.
Individuals should assess their situation to determine what is best for their own situation.
"Personal choice to wear a mask or not to wear a mask will be respected and supported," the memo adds.
Schools will continue to make ministry-issued masks available to students for the remainder of the school year. Staff will also have access to masks.
The memo from Rainbow's board said that before leaving home, students should still screen for COVID-19 daily using the COVID-19 Screening Tool for Schools and Daycares.
A number of groups have voiced their opposition to the scrapping of mask mandates in Ontario schools, including teachers' unions and a coalition of children's hospitals.
Ontario's science table chief, Dr. Peter Jüni, also said it was too early to move to the next stage of reopening.
Ontario Education Minister Stephen Lecce, however, is defending the province's plan to end mask rules along with other COVID-19 measures in schools on March 21.
Stephen Lecce said on March 10 that Ontario is following a handful of other Canadian jurisdictions, including Saskatchewan and Alberta, which have already lifted mask mandates, according to a Canadian Press report.
"I would say that, based on what we know today, we are actually one of the more cautious provinces," he told the provincial legislature, saying Ontario was following the "clear advice" from its chief medical officer.
Lecce said masking was becoming an individual choice, but the changes came with recent ventilation improvements in schools, including the recent supply of 49,000 HEPA filter units for schools and daycares.
Eric Laberge, president of District 3 Rainbow of the Ontario Secondary School Teachers' Federation (OSSTF), told Sudbury.com that it would have been prudent to wait until at least late March or early April to abandon mask mandates.
It hasn't even been two weeks since the province last eased public health restrictions, so we've yet to see the impact of that decision on COVID numbers, said Laberge, who represents teachers. English public secondary education in this region.
The other "fly in the ointment" is Spring Break, which is next week, when people will be traveling and possibly exposed to COVID at higher levels.
"Removing mask mandates from schools again after the March 21 break doesn't really give people an opportunity to measure the impacts of all these additional freedoms that have been gained over the past two weeks," said The bank.
The union leader said he encouraged his OSSTF members and others, including students, to continue wearing masks, regardless of the mask mandate being dropped.
"Everyone should be protecting themselves, and in doing so they are also protecting others around them," Laberge said.
Liana Holm, president of the Rainbow local chapter of the Elementary Teachers' Federation of Ontario (ETFO), representing elementary teachers locally in the English public system, said there was already had so much disruption in the education system this year and lifting restrictions so soon could cause more.
"Why don't we wait until the end of the year before we start lifting all these requirements that could further disrupt the system?" she said, adding that her union also believes lifting the mask mandate is premature.
"I mean, I understand there may be pressure from different people or organizations to start lifting the COVID-19 mandates.
"But just based on where we've been in the last two years in education, that's a recipe for causing more disruption. So we wouldn't want to see any more disruption in schools.
-With files from The Canadian Press