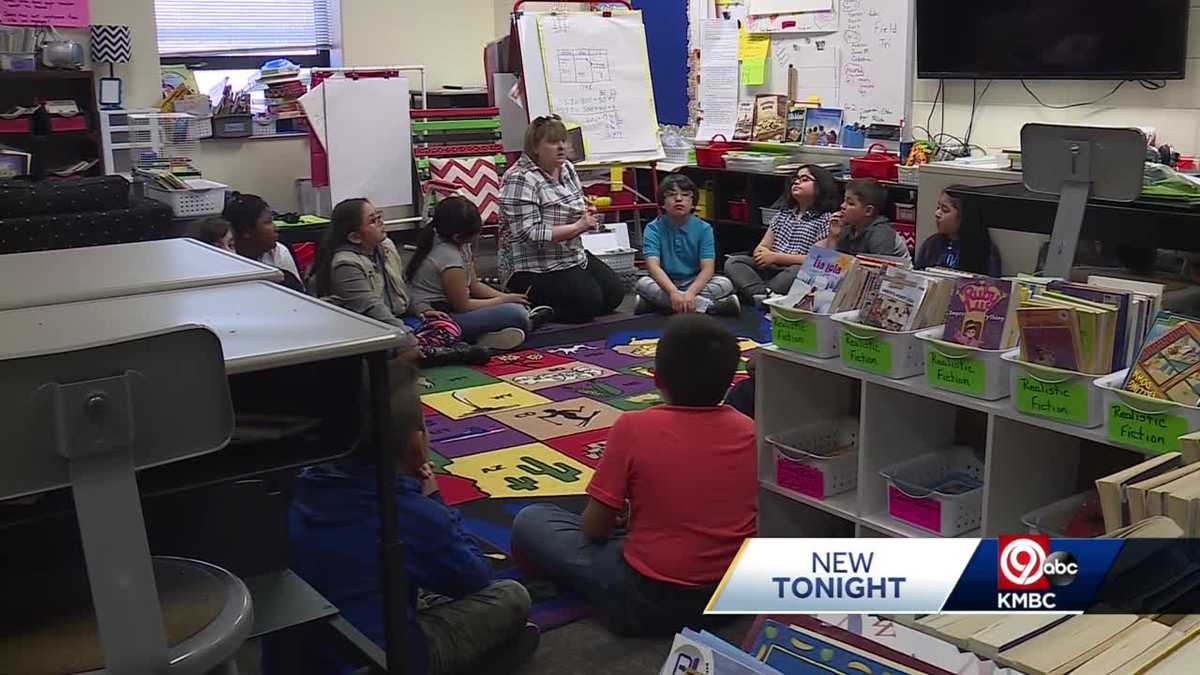 Parents are keeping a close eye on what's happening with funding for Kansas schools
The Kansas state budget — with more than $6 billion in funding for public schools — is under intense scrutiny. School districts say they didn't get the 92% special education funding required by the state constitution, and they're now looking to make cuts. In a letter sent to Gov. Laura Kelly in early April, the districts estimated their special education funding gap at: Blue Valley – more than $9.8 millionDeSoto – nearly $5 millionOlathe – about $15 millionShawnee Mission – approximately $8 millionSpring Hill – approximately $1.75 millionFive- One-year-old Abbie Reagan wants to be an artist. She practiced her craft on Monday, coloring at her kitchen table in her home in Olathe. But first, she has to go to kindergarten. Her mother worries about what school will be like for Abbie when she has her first day of school. educational experiences, it makes me really nervous about the future." The Reagans specifically bought their home in Olathe because of the school district. Reagan's oldest child has autism and requires special education through the district. Olathe's school. The youngest Reagan child still takes two naps a day. "When you have money taken out of funding from general education to special education, you have less money to hire teachers from general education," Claire said. "You have less money to focus on those specials, those extras." Jennifer Robinson also has three kids in Olathe schools, all in middle school and high school. youngster has special needs and "the support he needs is more than so many students," she said.But she listened to the recent budget discussion at Olathe School in April and said learned that to fund special education d e his youngest, his eldest son's engineering academy at Olathe Northwest would take a 50% cut in his budget. "I think when the average citizen hears there's a lack of funding for special education," Robinson said, "they don't realize that this missing funding will impact all students at all levels." Judith Deedy is Game On's Executive Director for Kansas Schools. It is a group of volunteers who defend the schools. "We're not advocating unicorns and rainbows," she explained. "We advocate for teacher compensation, programs and services. The fat, if any, has already been cut." The question now is what will be cut for future students. "If all these things happen," asked Claire, whose youngest is years out of kindergarten, "what will schools be like when my kids are 13, 14?" Deedy echoed the idea. "So what we're looking at is cutting essential programs and services for a generation of children." Johnson County superintendents sent a letter to the governor asking him to fund special education, as required by law. Many have web pages devoted to their legislative work, such as this one by Blue Valley. And a recent Twitter thread with several Kansas administrators noted how the state is not properly funding their special education. Kansas State Senator Cindy Holscher released this statement regarding special education funding: "I have been fighting for public school funding for years. Prior to the Gannon lawsuit settlement, I literally walked twice from JoCo to Topeka with Game On to draw attention to the severe underfunding of our schools under Brownback. Since then, we have significantly increased our funding, but every year the legislature tries to reduce its commitment to our schools. Efforts to undermine our public schools have reached a new level this session with nearly 20 anti-education bills, with no focus on the Ed spec shortfall. Several months ago, I helped start an organization called Freedom to Learn that focuses on supporting our public schools and teachers. Through messaging and forums, the organization has worked to draw attention to the challenges facing our schools, educators, and students during the pandemic and beyond. aged and sending e-mails, postcards, etc., regarding funding, specifically specified. Every week, I personally send updates to my mailing list about the state of education funding, with instructions on how to contact legislators. Last weekend there was a rally in Topeka that I helped organize with F2L to highlight the specified funding situation. Every day beginning this week, we will be present in Topeka to ensure that this issue is not overlooked. I know the funding formula can be difficult to understand, so I reached out to contacts to help create charts etc. on the subject. I know the people of Kansas support our public schools; whether this extremist-controlled legislature will listen and fulfill its commitment remains to be seen. Personally, I am ready to vote to increase our funding for special education."
OLATHE, Kan. —
The Kansas state budget — with more than $6 billion in funding for public schools — is under intense scrutiny. School districts say they didn't get the 92% funding for special education required by the state constitution, and they're now looking to make cuts.
In a letter sent to Governor Laura Kelly in early April, the districts estimated their special education funding gap at:
Blue Valley – over $9.8 million
DeSoto – nearly $5 million
Olathe – approximately $15 million
Shawnee Mission – approximately $8 million
Spring Hill – approximately $1.75 million
Five-year-old Abbie Reagan wants to be an artist. She practiced her craft on Monday, coloring at her kitchen table in her home in Olathe. But first, she has to go to kindergarten.
Her mother worries about what school will be like for Abbie when she has her first day of school.
"When I have to think about cut specials," Claire Reagan said, "or not having music or not having access to these well-rounded educational experiences, it makes me really nervous about the future."
The Reagans specifically bought their home in Olathe because of the school district. Reagan's oldest child has autism and requires special education through the Olathe School District. The youngest Reagan child still takes two naps a day.
"When you have money taken from general education funding toward special education, you have less money to hire general education teachers," Claire said. "You have less money to focus on those specials, those extras."
Jennifer Robinson also has three children in Olathe Schools, all in middle school and high school. Her youngest has special needs and "the support he needs is more than that of so many students," she said.
But she listened to Olathe's recent school budget discussion in April and learned that to fund her youngest's special education, her eldest son's engineering academy in Olathe Northwest would take a cut. 50% of its budget.
"I think when the average citizen hears there's a lack of funding for special education," Robinson said, "they don't realize that this missing funding will impact all students at all levels."
Judith Deedy is Game On's Executive Director for Kansas Schools. It is a group of volunteers who defend the schools. "We're not advocating unicorns and rainbows," she explained. "We advocate for teacher compensation, programs and services. The fat, if any, has already been cut."
The question now is what will be cut for future students. "If all these things happen," asked Claire, whose youngest is years out of kindergarten, "what will schools be like when my kids are 13, 14?"
Deedy echoed the idea. "So what we're looking at is cutting essential programs and services for a generation of children."
Johnson County superintendents sent a letter to the governor asking him to fund special education as required by law. Many have web pages devoted to their legislative work, such as Blue Valley's.
And one recent Twitter feed with several Kansas administrators noted that the state does not properly fund their special education.
Kansas State Senator Cindy Holscher released this statement regarding special education funding:
"I have been fighting for public school funding for years. Prior to the Gannon lawsuit settlement, I literally walked twice from JoCo to Topeka with Game On to bring attention to the severe underfunding of our schools under Brownback. Over the years, we have significantly increased our funding, but every year the Legislature tries to reduce its commitment to our schools. Efforts to undermine our public schools have taken to a new level this session with nearly 20 anti-education law, with almost no focus on Several months ago, I helped start an organization called Freedom to Learn, which focuses on supporting our public schools and teachers through messages and of forums, the organization has worked to bring attention to the challenges facing our schools, educators and students during the pandemic and beyond. Engage more parents and send e-mails, postcards, etc., regarding funding, specifically specified.
Every week, I personally send updates to my mailing list about the state of education funding, with instructions on how to contact legislators. Last weekend there was a rally in Topeka that I helped organize with F2L to highlight the specified funding situation. Every day beginning this week, we will be present in Topeka to ensure that this issue is not overlooked. I know the funding formula can be difficult to understand, so I reached out to contacts to help create charts etc. on the subject.
I know the people of Kansas support our public schools; whether this extremist-controlled legislature will listen and fulfill its commitment remains to be seen. Personally, I am ready to vote to increase our funding for special education."