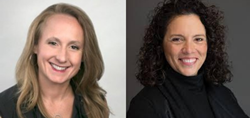 Confluent Health Expands Leadership Team with Two Appointments
"With Confluent's portfolio continuing to expand, promoting and recruiting top talent is a key priority to ensure continued growth and extraordinary support for our partners," – John Thompson, Chief Financial Officer of Confluent Health.

LOUISVILLE, Kentucky (PRWEB)
February 03, 2022
Confluent Health is proud to announce two new appointments to the leadership team in response to the company's continued growth. Recent acquisitions have taken Confluent's footprint to 38 companies, including a higher education provider, private practice membership network, workplace safety and prevention companies, and more than 500 private practice physical therapy clinics in 27 states.
Key hires include new appointments in the Revenue Cycle, Clinical Operations and Professional Development verticals.
Confluent Health veteran Dr. Daphne Scott, PT, DScPT, MAPP, OCS, FAAOMPT, will transition from her current role as Chief Culture Officer and Chief Operating Officer of Team Thrive to President of the Ambulatory Division of Confluent, providing leadership, clinical expertise and operational acumen to a growing clinical workforce that serves more than 300,000 patients each year. Dr. Scott's dedication to professional development and culture building is unique in the industry.
Bridget Morehouse, PT, MBA, joins the Confluent Health family in the newly formed role of Chief Revenue Officer (CRO). Most recently, Bridget was Senior Vice President of Contracts and Pricing at ATI Physical Therapy. In the new role, Morehouse will manage all financial aspects of Confluent Health and its companies, including accounting, financing, contracts with payers, mergers and acquisitions and other general corporate matters.
"We are thrilled to add the best in the profession to our leadership team," said President and CEO Larry Benz, PT, DPT, OCS, MBA, MAPP. "Their extensive clinical, operational and financial experience makes them exceptional leaders and we look forward to seeing their contribution to our continued growth. They join the longstanding tradition of women in leadership positions at Confluent Health. »
Dr. Scott earned his Masters in Physical Therapy and Doctor of Science in Physical Therapy from Andrews University. She is a published author in the fields of physical therapy, leadership and mindfulness, most recently with her book Waking Up a Leader: The Five Relationships of Success. With over 20 years of active leadership, Dr. Scott thrives in her work at Confluent Health and is able to use her Masters in Applied Positive Psychology, which she earned at the University of Pennsylvania, to support the organizational culture.
Alumnus of Marquette University, Ms. Morehouse has extensive experience in the physiotherapy industry, providing strategic leadership in managed care contracts, revenue cycle management, accreditation, information technology, finance and business development. Known for working with major payers such as Blue Cross Blue Shield, Aetna, United Health Care, Humana and Cigna, Ms. Morehouse has also trained clinical staff in payment policy, compliance, coding and documentation. Most recently, she was responsible for strategic partnerships at Luna On-Demand Physical Therapy, with a focus on technological innovations for the delivery of physiotherapy.
"As Confluent's portfolio continues to expand, nurturing and recruiting top talent is a key priority to ensure continued growth and extraordinary support for our partners," said John Thompson, Chief Financial Officer of Confluent Health.
Confluent Health's growth and dedication to employee success is a common thread in Morehouse and Scott's decision to join the team.
###
About Confluent Health:

Confluent Health is a Louisville, Kentucky-based private holding company focused on creating a healthcare system that recognizes physical and occupational therapy providers as the best first choice for preventing and managing musculoskeletal disorders. -skeletal and movement disorders. Confluent Health offers the following management services: evidence-based practice, patient retention, regulatory assurance, marketing and branding, clinical operations, hiring and retention, strategy, accounting and finance, and customer service for advanced physiotherapy and Favorite, Baton Rouge-Lake Physiotherapy, Breakthrough Physiotherapy, Capitol Physiotherapy, Colorado in Motion, Confluent Physiotherapy, El Paso Physiotherapy Specialists, Evidence In Motion Family of Companies, Fit For Work, HPRC, Lake Center for Rehab , Mountain River Physical Therapy, OSPT , Dads | OPT Physiotherapy, Physiotherapy Center, Proactive Physiotherapy Specialists, ProRehab Physiotherapy, PTPN, Redbud Physiotherapy, Rehabilitation Therapy Works, RET Physiotherapy Group, Shea Physiotherapy, SporTherapy, TOSPT, Texas Physiotherapy Specialists, Western Berks Physiotherapy and Group wellness and sports medicine Xcel. Together, these companies share a common ownership team and are committed to developing a culture of learning, purpose and coaching.